Corrective Action And Preventive Action Case Study
Tugore
/
Case Study Part 2: Packaging CAPA Preventive Action and Corrective Action
Posted by Rob Packard on November 11, 2015
This article explains details of implementing a CAPA preventive action and corrective action for packaging issues. Specifically, containment measures, corrections, corrective actions and preventive actions to address the root cause identified in part 1 of this case study.
Comparing Incoming Inspection Results as a CAPA Preventive Action
CAPA Step 1: Containment of Product with Defective Packaging
When you learn of a packaging complaint related to a specific lot, you also need to determine if other product associated with the lot is safe to ship to customers. You should not attempt a correction and removal of product unless you have a reasonably high level of confidence that there is a packaging issue with the lot or a portion of a lot, but you might consider placing product from the same lot in your inventory on hold until your investigation is completed. If you confirm that you have an issue with a specific lot, lots or portion of a lot; then you should initiate correction and removal of product to prevent potentially, non-sterile product from being used. This type of problem could result in a Class 1 recall (i.e., the most severe of the three categories). Therefore, you need to act quickly and according to established procedures for corrections and removals.
CAPA Step 2: Correction(s) of Defective Packaging
If you find a problem there is little you can do to fix the existing, defective packaging other than to repackage the product. If the product has only been sterilized once, and you have revalidated the product for resterilization, then you can repackage, relabel and resterilize. In order to ensure traceability to the lot that has been reworked, you may need to revise the labeling (e.g., add an "R" to the lot number). If you have not revalidated the resterilization of product, you may want to use this lot for validation of resterilization instead of throwing it out. However, sometimes your best option is to scrap the product.
Additional corrections may involve correcting the calibration of a testing device or performing repair to sealing equipment. You might modifying a specification on a drawing. You might correct a work instruction that did not have the correct validated sealing parameters. All of these could be corrections.
CAPA Step 4: Corrective Action(s) for Packaging Issues
Investigation of root cause (CAPA Step 3) occurs in parallel with containment (CAPA Step 1) and correction (CAPA Step 2). Corrective actions (CAPA Step 4) prevent the packaging issues from recurring, and they occur after the first three steps, because you can only implement corrective actions once you understand the root cause of the quality issue. The best tool for evaluating your current process controls and evaluating the implementation of new corrective actions is a process risk control plan. In order to do this you need a process flow diagram and a process risk analysis. Each step of the process from raw material fabrication of film to the released product needs to have potential hazards identified, risks evaluated and risk controls implemented. You should use your process validation to verify the effectiveness of process risk controls quantitatively. If the process capability is greater than 95% for each parameter and you have addressed every possible source of problems, then you probably won't gain much from additional risk controls. However, many companies reduce their sampling or rely on certificates of conformity to ensure that the process is controlled adequately.
CAPA Step 5: CAPA Preventive Action for Packaging Issues
You already had a packaging issue with one lot of product, but you could have another issue with a different product or lot for the same reason or a different reason. If the product is the same, and the reason is the same, then actions taken are corrective actions. If you take action to prevent occurrence of this issue with a different product, or you prevent other potential causes of packaging issues by initiating more robust monitoring and process controls, then your actions are preventive actions. Often you will want to implement both types of actions.
In the box plot example provided in this article, Lot D was detected at incoming inspection as having peel test results that were outside the alert limit but acceptable when compared to the specification limit for peel testing. The alert limit was established during validation of the pouches and comparison of lots A, B, C and D demonstrate that Lot D is slightly lower in peel strength. The manufacturer may choose to use the lot, but the sampling plan for in-process peel testing may be altered or the manufacturer may choose to place the new lot in quarantine while an investigation is performed. This is a CAPA preventive action.
Below I have listed six additional potential CAPA preventive actions to consider for your packaging process:
Perform peel testing and/or bubble leak testing of packaging raw materials as part of the receiving inspection process and perform data analysis of the incoming inspection samples to determine if lower or higher alert and action limits should be established for the new lot of raw materials. The limits should be based upon the manufacturer's seals as well as your own seal.
Retain remnants of in-process peel testing, include the remnants with the sterilization load, and then store the remnants for real-time aging.
Consider implementing visual inspection tools that are able to detect sealing imperfections non-destructively.
Increase the number of samples you test (e.g., 1 to 3 or 3 to 5) for each lot of product sealed to increase your confidence that the seals will be within specifications.
Perform statistical analysis of in-process data for seal peel strength in order to identify potential lots with packaging issues prior to release.
Evaluate the performance of the packaging at temperature and humidity extremes that may be higher or lower than the conservative estimates for ambient conditions (e.g., 30C vs. 25C).
Additional Resources
In addition to the previous article that was part 1 of this case study, I have posted 10 other blogs specifically on the topic of CAPA. There is also a CAPA procedure you can download from this website.
Risk-based CAPA Webinar
If you are interested in learning more about a risk-based approach to CAPAs, then please click here.
Pin It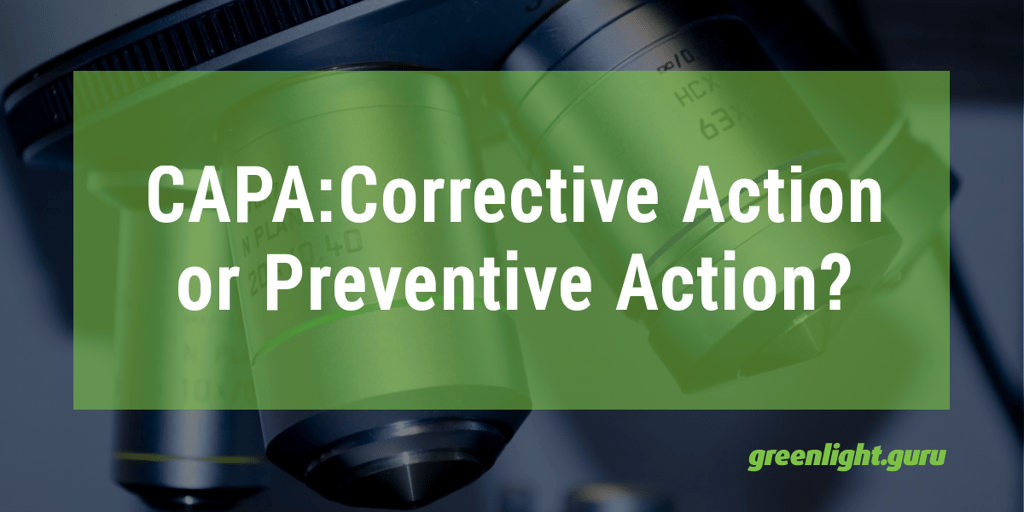 How many of you can confidently initiate a CAPA and know exactly how and what to do and the process you should follow?
We've written about a fewdifferentissues to do with CAPA lately, largely because it tends to be an area that is still full of questions with a bit of confusion around the process and terminologies used.
As you probably know, CAPA itself is an acronym for Corrective Action and Preventive Action. One of the things that companies need to be aware of is what exactly those things mean and when to use them:
Free Bonus Giveaway: Click here to download a free cheatsheet of What FDA Expects to See as Part of Your CAPA Process.
Corrective Action
To begin with a quick refresh, you're going to use a CAPA process to prevent and correct issues identified in your company, but not every issue warrants a CAPA.
If you have an issue that proves to be repetitive and systemic or it is something that is quite severe, that is when CAPA comes into play. Otherwise, you would just use other procedures within your quality system to manage the issue; for example, for your complaints procedure or change management.
So, let's say you've found a series of non-conformances. You've discovered that you have a systemic issue and that you need to enact your CAPA procedure. Corrective action is what you might see as the quick, reactionary measures you take as a result.
The purpose of corrective action is to correct and contain any issues that you've identified. You could be trying any number of means to ensure that the incident doesn't happen again or can't spread any further.
For example, serious actions might include halting the manufacturing process until you've got to the bottom of the issue or putting products into quarantine rather than allowing them to go out to customers and end-users.
The corrective action is going to occur when you've had feedback from one of your quality data sources to show that you have an issue for CAPA.
Here's another example; let's imagine that your source for identifying a CAPA issue was an internal audit. Perhaps you've identified a non-conformance within manufacturing that appears to be happening regularly. A corrective action might be to immediately require your manufacturing staff to undergo extra training to help stop the issue from happening again (this could be a corrective and a preventive action).
An extreme corrective action would be to issue a recall of the product involved. A product recall is its own "beast" with many nuances and decision points that warrants its own discussion, so we won't go into it in detail here. However, you should be familiar with and have procedures for addressing potential product recalls. Review FDA 21 CFR Part 806 for more details.
As you can probably tell, corrective action can be a bit "knee jerk" at times and might not even be a permanent solution to the issue. To say it another way, taking corrective action is very much about reacting to a situation that has already occurred.
Preventive Action
When you go into CAPA, there tends to be a greater emphasis on corrective actions rather than preventive.
People always seem to be fighting fires and taking a reactive stance. A good analogy is in your health care; for example, maybe you develop high blood pressure and are put on medications to lower it.
There are risk factors to high blood pressure that are known prior to the condition ever appearing. If someone knows they need to lose a few pounds ahead of ending up with high blood pressure, a good preventive action is to lose that weight. Going on the medication is the reactive, corrective action.
This is essentially the difference between corrective action and preventive action; preventive is proactive. It seeks to monitor and prevent issues before they become a problem.
Imagine you have a non-conformance and find an issue with product not meeting your specification, while that product is still under your control (at your manufacturing facility). A preventive action might be to look at inspecting more components or parts, or perhaps even inspecting more regularly. You want to be thorough with your product and inspection criteria before it becomes a problem. A good process implies that you have the necessary checks and balances in place to identify issues before your products leave the facility and therefore, before things like complaints or recalls become necessary.
For example, if you've had an issue with product A, have you checked products B and C as well? That issue might show up at some point for them too, especially if it is process-related, so be proactive.
If you found people weren't following a procedure because they didn't have adequate training, this might cause issues across multiple products or areas of the business. This is where that training is both corrective and preventive.
Here are some common preventive actions:
Installing "alarms" into your process. This might be monitoring of statistics or process control charts.
Audits or reviews of suppliers.
Review of non-conformances in similar companies or products. How might the lessons learned there apply to your business? Perform regular risk analyses (such as Failure Modes Effects Analysis - FMEA) to uncover possibly hazards.
Any preventative maintenance or calibration programs that ensure your equipment functions uniformly.
Regular review of processes or controls to spot any potential issues that could drift into the area of a non-conformance.
Establish comprehensive training programs with regular performance reviews to ensure employee performance standards are kept up.
Have planning in place for hazards, disaster recovery, or any unexpected situations so that your company is prepared.
Be Proactive
The overall aim is to design and develop quality systems that are leading indicators of any issues rather than lagging after the fact. Build in processes that help prevent issues from happening in the first place, then monitor and review those processes regularly.
Medical device companies that have a difficult time with compliance tend to be those who are reactive rather than proactive. Often, compliance activities become checkbox items that they "have" to do because they're expecting an audit or inspection.
If this is the case, your company is missing the point. Regular monitoring and reviewing of processes can help you provide better, safer devices, which should always be the end goal. Monitoring or auditing should be treated as opportunities to learn and improve where possible.
Remember, the FDA won't be sending you a warning letter just because you have a CAPA, they'll do so because you didn't document or follow good processes to deal with it.
Free Bonus Giveaway: Click here to download a free cheatsheet of What FDA Expects to See as Part of Your CAPA Process.
Final Thoughts
Which sits more easily with your company? Reactive measures when issues arise or taking a proactive stance to catch things before they become an issue?
There tends to be a lot of "fire fighting" and focus given to corrective actions for non-conformances and less attention given to the proactive, preventive measures. Our feeling is that it tends to be the companies who strive to be proactive and catch possible issues before they become non-conformances who have a smoother path with getting their products to market and with dealing with regulatory bodies.
It might sound like a lot of work putting in checks and alarms, but doing that work upfront can save you from costly or time consuming corrective actions later on.
---
Still using a manual or paper-based approach to manage your quality processes such as CAPA's mentioned above? Click here to learn more about how greenlight.guru's modern eQMS software platform exclusively for medical device companies is helping devicemakers all over the globe in more than 270 cities and 25 countries get safer products to market faster with less risk while ensuring regulatory compliance.
---