Bressay Ferry Timetable Shetland
Tujar
/
To see exactly where Unst is situated, take a look at our google maps location. Although as far north as southern Greenland, it is a very accessible island with smooth, modern roads and frequent vehicle ferries taking you north.
Getting to Unst may seem like an adventure, and it is. Who gets to say they've been to the most northerly island in the United Kingdom? A trip to Shetland's main town, Lerwick, is the norm for locals. The journey is worth it, and is a journey which makes visiting Unst so unique.
Getting from Lerwick to Unst will take 90 – 120 minutes and involves two ferry journeys.
You do not pay on any route from Unst to Lerwick. The only ferry fare payment made is from Lerwick to Unst on the Toft to Ulsta route.
Please see below: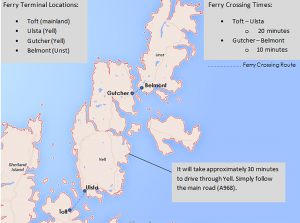 Lerwick to Unst – ferries leave Toft and Gutcher.
Unst to Lerwick – ferries leave Belmont and Ulsta.
Ferry Timetables and Fares information can be found at: http://www.shetland.gov.uk/ferries/timetable.asp
Top Tips:
Ferry bookings can be made online at above address or on 01595745804.
Ferry payment is made by cash.
The earliest ferries are 0615 and 0630. The latest ferry is 2255. These ferries must be booked.
On the rare occasion weather or techncal issues may cause disruption to the timetable. You can sign up for alerts to your mobile from SIC via their website.
There are two ferry timetables published throughout the year: winter and summer timetables. Please make sure the date at the top of the timetable fits with your visit
GETTING TO UNST BY BUS
There is bus service from Lerwick to Unst, Monday – Saturday.
8AM @ The Shetland Hotel bus stop: This service connects with Northlink arrivals from Aberdeen. The bus stop is across the road from Northlink Ferry Terminal at the Shetland Hotel.
2:30PM @ Viking Bus Station: This is located in central Lerwick.
There is a limited daily bus service available throughout the island. Contact P&T Coaches on 01957 711666 or burnsptcoaches@aol.com for more information.
Inter Island Ferry Service
Shetland Islands Council operate a fleet of 12 ferries providing lifeline services between mainland Shetland and the islands. The services run from 15 terminals serving 8 islands with a total population of just under 3,500 people. The ships make over 70,000 crossings each year and carry over 750,000 passengers and over 350,000 vehicles.
Roll on / roll off services, carrying passengers and all types of vehicles, operate every day to the islands of Yell, Unst, Fetlar, Whalsay and Bressay. A Roll on / Roll off service is now in place for Papa Stour. Vehicles can be reserved on all these routes except to Bressay. Freight and limited passenger services operate to Skerries, Fair Isle, and Papa Stour. Frequencies vary from 3 to 12 return sailings per week and some vehicles can be carried. All passengers and vehicles must be booked. In addition to this, BK Marine operate a lifeline service to Foula under contract to the Shetland Islands Council.
For information on timetables and bookings see the following websites: